Water resistant woods: this is what you should know
When looking for the most befitting stain for your outdoor (or indoor) wood project, several factors need to be considered. There are two main stain types according to their bases- oil-based stain & water-based stain; and in specific conditions, one is practically better than the other. Depending on the type of wood, any previous wood treatment & weather exposure, both these types of stains offer different levels of coverage & protection. Here are some properties of both the the stain types to guide your decision:
- The water-based stain is breathable, does not emit harmful fumes or odors, is not flammable, dries quickly, retains its color for a longer period of time, offers a richer hue of color, is extremely resistant to mildew and mold, and is easier to clean requiring only soap and water; while
- the oil-based stain needs more time to dry that allows for a more even finish, penetrates wood deeper, requires less for long-term maintenance, is extremely durable and offers a thicker seal for wood. 
The type of wood also plays a key role in deciding the right stain. For example, when coating a wood with natural resistance to rotting, it is better to use a water-based stain. Examples of this kind of wood are cypress, cedar & redwood. 
Similarly, previous wood treatment is a crucial factor to arrive upon the correct stain. If the wood to be stained bears a previous coating of stain/ paint, care should be taken to ensure a new, even protective layer. It may be difficult to ascertain the previous layer,  but knowing it will undoubtedly help in choosing the apt stain. If the previous layer is oil-based, opting for a water-based stain now is advisable as the latter will adhere better as compared to an oil-based one.   
The kind of weather the wood will be exposed to is also significant in determining the best stain-base. If the wood element is going to have a direct exposure to rain, wind & sunlight, an oil-based stain is the best option. This is because it is more durable than a water-based stain, and will impart a much better protective cover against these weather conditions.
Interior spaces like bathrooms & kitchens are also in constant contact with varying levels of high moisture, especially bathrooms. And so, staining the floors & other wooden surfaces becomes important in these spaces too. In this image, the stained pine floor looks natural even in the monochrome design.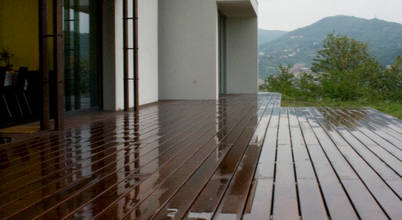 Water resistant woods: this is what you should know. Water resistant woods: this is what you should know Types of water resistant woods. As mentioned above, hardwoods are both low maintenance & highly Interiors also need water resistant wood floor. The importance of water resistant wood finish. Water resistant wood stain—a necessity. When
What Kind Of Wood Is Waterproof?. Water-resistant Woods While all woods respond to water, some species last a little longer in wet and damp environments. Hardwoods in general have better water resiliency than softer woods like pine because the fibers are tightly packed together, resulting in less absorption, which does not mean all hardwoods are waterproof.
Video of Water resistant woods: this is what you should know
Water resistant woods: this is what you should know
Mahogany. Mahogany is a fine-grained, durable wood. Mahogany stands up extremely well to water and is even used to make boats. It resists welling, shrinking and warping very well. Due to its ability to withstand wear and water, as well as its rich, natural reddish-brown color, it is an expensive option. Water Resistant Woods. D3 water resistant wood glue pmh supplies ltd water resistant woods this is what you should know an introduction to wood species part 1 properties amp 8 rot resistant woods for your outdoor projects the first of these woods is alder tree a well known scientists create artificial wood that is water and fire resistant. What Is The Best Water Resistant Wood. There is no water-resistant wood. However, bamboo is a very durable grass (not wood) and can be used in a bathroom as it has some water-resistant properties. Naturally Rot-Resistant Woods. Among exceptionally decay-resistant tropical woods are ipe, lignumvitae, purpleheart, and old-growth teak. Not quite as resistant as these, but still defined as resistant or very resistant, according to the FPL, are more common woods that are widely sold for outdoor use: various species of cedar, cypress, redwood, and white oak. The following two sections list domestic and tropical tree species whose wood is exceptionally resistant, resistant or very resistant, and moderately resistant. Highly Water Resistant Wood. highly water resistant wood. JonE Posted in Wood and Materials on October 20, 2006 04:08am Looking for suggestions on a wood species to be used for building a small bench/seat/shower caddy to be used in an active master bathroom shower. Subject to at least two to four daily soakings and subsequent drying periods.
Tags: Know, Water Resistant Woods: This Is What You Should Know
Water Resistant Woods: This Is What You Should Know
4 Reasons Why You Should Choose Waterproof Laminate
Smart Plywood Brown Wooden Boiling Water Resistant Plywood
Condensation In A Residential Cabin: Things You Need To
All About Hardwood Flooring + The Common Cleaner That'll
Flooring : Home Design Ideas
Dixie Home LVT
Dark Sandalwood & Slate
Is Waterproof Laminate Flooring Right For Your Home?
Choosing The Right Laminate Flooring
How To Make Wooden Baseboard Heater Covers.
Waterproof Laminate Wood Flooring: 4 Advantages You Should
Warm Western Weathered Wood Shower Curtain
Possible Danger Signs On Purple Wood Stain You Should Know
Food Safe Wood Finish Polyurethane
Waterproofing A Basement From The Inside
What Is Water Resistant Clothing? (with Pictures
Recommended Use: Understanding The Durability Of Your
What You Should Know About Bed Bug Resistant Furniture
Tamlee Bamboo Wood Watch
Ladies Wood Watch By JORD
Mod Podge Outdoor: Everything You Need To Know!
How Do I Remove Water Marks From Wood? (with Pictures
Fieldcrest Zebrawood & Maple
Indy Jones Water Resistant Cotton Hat
Can You Really Be Successful Without Being Coachable
How To Make Wooden Planter Boxes Waterproof?
Creosote Can Become A Hazard
The Value Of A Teak Wooden Bath Mat
DIY Bathroom Remodeling Phase 4 (Cement Board Installation
22 White Wood Floor Ideas And How You Should Combine It
House And Garden Decorating
Wood Watch For Women By JORD
Cedar Wood Outdoor Furniture Reviews
Beastiarium (DIY Insect Vivarium)
Ten Things You Should Know About Spray Paint
Urban Decay Razor Sharp Water-Resistant Longwear Liquid
What You Need To Know About Treated Lumber
WO9 Shabby Chic Wood By Photography Backdrops UK
What You Need To Know About Plywood
Waterparks Memes
Btw - Baths Tiles Woodfloors
Survival First Aid Kit, Survival Gear
Why We Need To Keep Teaching Formal Proof In Geometry
The Best Wood Glue: Choosing The Right Type For Your